钧多立, Vision Optoelectronics have closed down one after another, the LED industry continues to burst news of related companies' financial constraints and operational difficulties. Under such an industry atmosphere, Taiwan's LED epitaxial chip leader Jingdian has announced that it has acquired a controlling stake in Guangrong with NT$4 billion.
Insiders pointed out that the LED industry has entered the stage of integration of mergers and acquisitions as the main melody, and this period may last 2-3 years. On the one hand, the gradual increase in the use of public lighting, commercial lighting, etc., has laid the foundation for the market; on the other hand, industry integration is not a bad thing for the dominant enterprises, and it can take advantage of industry consolidation to occupy a larger market.
The reporter's visit to some LED listed companies is quite optimistic: Sanan Optoelectronics, Dehao Runda, etc. are accelerating the implementation of the entire industry chain, while packaging companies such as Guoxing Optoelectronics, Hongli Optoelectronics is extending its business to downstream applications, on the job Optoelectronics, Shell, etc., by focusing on application products, try to meet the upcoming market volume.
Industry integration continues
Since last year, regardless of the international market or the domestic market, many LED companies have encountered operational difficulties, such as Vision Optoelectronics, and Duo Duo Li have successively closed down, and industry consolidation has occurred from time to time, such as the acquisition of Guang-Guang. Industry insiders pointed out that such industry consolidation may last for 2-3 years.
From the perspective of the entire industry, many LED companies are facing pressure to decline in profitability due to the economic downturn. National Star Optoelectronics, which is engaged in LED packaging and application products, the epitaxial chip, packaging and lighting applications in the LED industry are in the release period of production capacity, which will inevitably lead to non-market rational fluctuations in raw material prices at all ends of the industry. It is expected that product prices will continue to fall, and price wars will It is the normal way of the market.
Zhou Jun, an analyst at Orient Securities, also elaborated on similar views. In a recent report, he pointed out that LED downstream packaging and application companies have a large number, small scale, and low capital, and they cannot continue to operate in an economic downturn. And such an industry situation has laid the foundation for industry integration. Zhou Jun analyzed that the recent acquisition of Guangguang by Jingdian is a landmark event, indicating that the LED industry will enter the stage of comprehensive elimination and integration in the future.
From the perspective of market competition, many LED companies face problems of insufficient qualification and strength. Deng Fei, deputy general manager of Dehao Runda, said that in the competition for street lighting orders for public lighting, many small enterprises have a production capacity of only 1000-2000 baht a year, and only Zhuhai needs to replace about 30,000 street lamps this year. It has reached 60,000 baht. In the bidding process, considering the technical certification of street lamp products, large-scale supply, price cost and financial strength, it is difficult for SMEs to have the opportunity to compete with big companies. He said: "Under continuous capital and operating pressure, many companies will face exit, and this will help to form a large enterprise."
Industry integration is not only reflected in horizontal expansion, but vertical integration of upstream and downstream has gradually become a prominent feature of the LED industry. For example, as early as 2011, CREE announced the acquisition of lighting manufacturer RuudLighting, which will extend its reach to the high-performance LED lighting application market. Such cases are gradually increasing in the LED industry.
"The general rule is that when an emerging industry develops into a certain period of time, it will enter a period of integration that varies from time to time, and this integration is beneficial to the long-term healthy development of the industry." An LED industry expert said that the future industry will form a To two leading companies.

Terminal Resistor as a optional LED Accessories , which always connected with the last led lamp output to make sure the signal stable. The Termination Resistor is necessary in 3D Led Tube light project. We embemed terminal resistor in a small 4 pin end tie, which make sure the terminal resistor waterproof, dustproof and fast apply to the DMX 512 led project.
Photo show of Terminal Resistor And End Cap :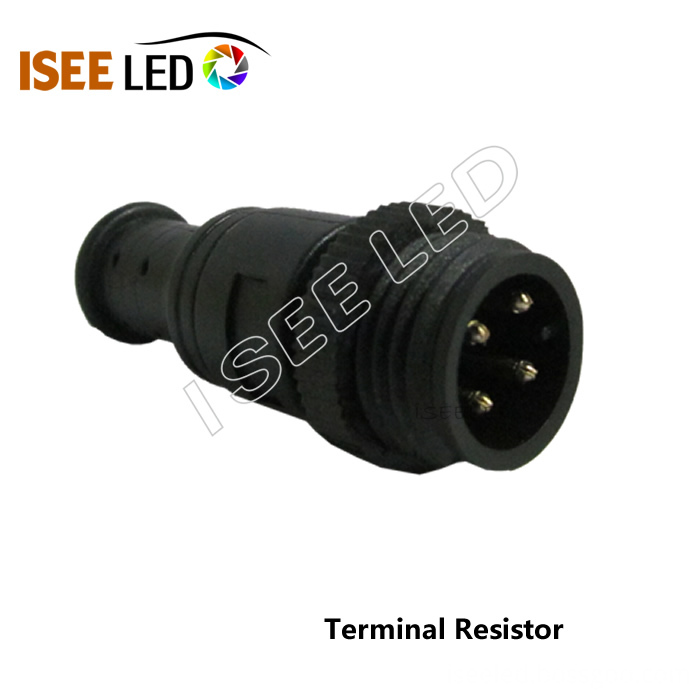 Terminal Resistor And End Cap,Terminal Resistor,Termination Resistor
Shenzhen Iseeled Technology Co., Ltd. , https://www.iseeledlight.com