The announcement of the National Small and Medium Enterprise Share Transfer System shows that Hongbao Technology's listing application was approved and publicly disclosed today, with the stock code: 835657.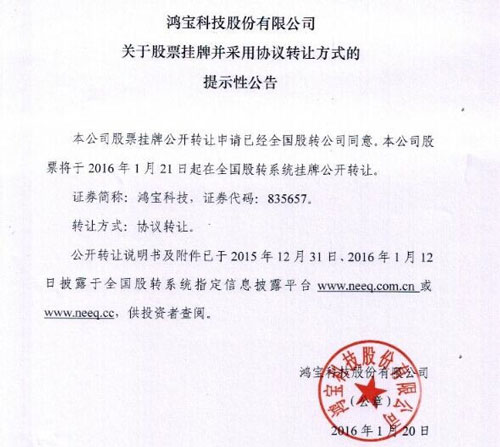 According to the announcement, the company's revenue from January to May 2015, 2014 and 2013 were 6,929,900 yuan, 78,353,700 yuan, and 77,779,500 yuan respectively. The gross profit margin was 36.28%, 32.94%, 32.58%, and the gross profit margin. It is relatively stable, with net profit margins of -43.58%, 12.92%, and 7.59%, and basic earnings per share of -0.05 yuan / share, 0.21 yuan / share, 0.12 yuan / share. The main business income was 69.12 million yuan, 70.185 million yuan, and 77.796 million yuan. The company's main business income accounted for more than 99% of operating income, and its main business was outstanding. Other business income is mainly to deal with the income of defective products.
Hongbao Technology (Hongbao Technology Co., Ltd.) was established on September 21, 2005. Its main business is the application research and development, production and sales of LED lighting products and intelligent lighting systems, as well as high-power LED lighting equipment, intelligent lighting systems and Lighting system engineering installation, maintenance and energy-saving renovation design, operation and other services.
Hongbao's main products and services include engineering installation, maintenance and operation services for intelligent lighting systems and lighting systems for LED high-power lighting fixtures. Among them, LED lighting fixtures include LED street light, LED tunnel light, LED theme light, LED garden light, LED lawn light, LED special lighting, LED solar street light and LED lighting.

Kitchen Hot Plate,Electric Solid Hotplate,High Powered Hotplate,Cooking Plate
Shaoxing Haoda Electrical Appliance Co.,Ltd , https://www.hotplates.nl